Wiechmann Ketten- u. Kettenräderbau GmbH in Edewecht, Lower Saxony, processes around 8,000 tons of raw material annually in its sheet metal processing division to produce parts for a wide range of purposes and industries. Some are also assembled into complete components, including interim external processing. With Lantek software, all processes are always transparent, manageable, and traceable. An interview with Managing Director Andre Wiechmann and Technical Director Hinrich Böhlje.
Lantek: The name of your company does not directly indicate sheet metal processing.
Andre Wiechmann: That's true. In 1963, my father, Otto Wiechmann, founded the company to produce milling chains, digging tools, and chain sprockets for trenchers used to lay drainage pipes, electricity, gas, and water lines in the ground. Today, we export these products worldwide. In 1996, I took over management and, shortly afterwards, invested in a laser cutting machine to modernize the chain production. This quickly developed into a second mainstay: sheet metal processing. We now have four Trumpf laser cutting machines, four Lissmac machines for edge rounding, three LVD press brakes, and one NC punching machine from Amada. With 50 employees, we now process about 8,000 tons of steel per year over an area of more than 10,000 square meters.
Lantek: Who are your customers?
Wiechmann: Anyone who needs a lasered or punched part, as well as a hardened or even welded part. This ranges from a corporate group from the food or wear parts industry to a neighbor who comes into our office and wants a new bell plate. We're here, on site and offer help wherever the customer needs it.
Lantek: But custom-made products are not your main business, are they?
Wiechmann: We have framework agreements with well-known companies. These run for 12 to 18 months and are called off in specific batch sizes. If you order by 12:15pm, we'll deliver the next day. Which explains how sometimes a full 40-ton truck goes out. But sometimes customers are in a hurry - we also deliver in two hours.
Lantek: How do you do it?
Wiechmann: In our warehouse we always have about 500 tons of material in stock. This is aluminum, steel, and stainless steel in various alloys and thicknesses from 0.5 to 25 millimeters. We also have a large, finished parts store where we keep up to five batch sizes, each of which can contain 30,000 to 50,000 parts.
Lantek: How do you keep track of it all?
Wiechmann: For about three years now, we've been using Lantek software to control all our processes, including the management of our finished parts store. Due to their manufacturer-independent operating method, we can integrate all our machines from different manufacturers. And there is no process in sheet metal processing that the software doesn't map.
Lantek: How did you discover Lantek?
Wiechmann: Thanks to our Technical Manager Hinrich Böhlje, who joined us five years ago.
Hinrich Böhlje: I've known and admired Lantek's software ever since I worked with the first laser systems 20 years ago, which ran with the Lantek Expert nesting module. Initially, Wiechmann was only looking for a software solution to combine parts for sheet metal processing. We wanted to start with Lantek Expert. But then we saw in just how many ways digitization can still help us - and the matter gained such momentum that a completely closed system with Lantek was finally created. This has brought us quite far on the path towards Industry 4.0.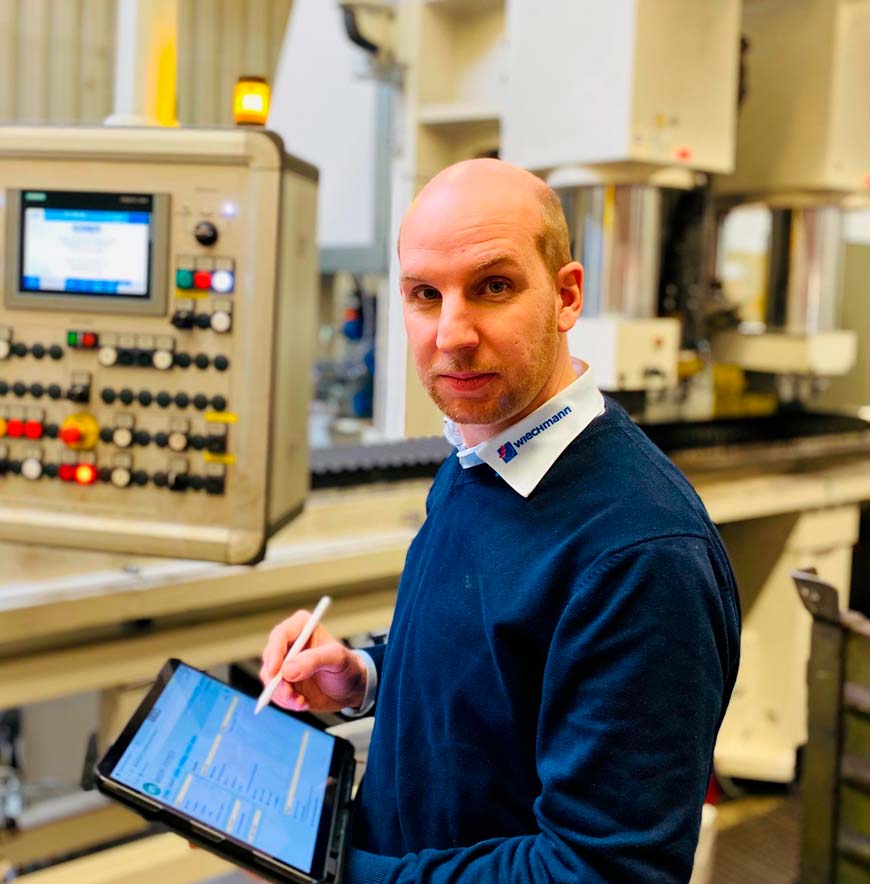 Michael Sanders (picture)
Lantek: What exactly does this system look like?
Wiechmann: It starts with the quote. When a customer makes a request, it is created in seconds with the software. It accesses valid data and calculates realistic prices. If the customer accepts the quote, it can be turned into an order with just one click, which is then sent to production planning and manufactured by us.
Böhlje: The software's workshop manager maps all 19 possible process steps such as laser cutting, punching, edge rounding, forming, and
machining. Each machine is displayed as a separate work center. This also includes subcontracted work for parts that leave the factory and come back to be reintegrated into the process. As an end-to-end solution, the software accompanies the orders through production, into shipping, and up to the creation of the delivery bill. We then export this to SAGE, since our overall accounting for both divisions is based on this program.
Lantek: What are the advantages of the way you work today?
Wiechmann: Before Lantek, we did our calculations with Excel and everyone calculated their own prices. In addition, everything was done and documented by hand - every order, all processing times, all customer data. We had the documents in folders. We've been able to get rid of all of them. Today, we only have to enter the data into the system once and can access it for each work step - and also for repeat orders or future orders. For each offer the system provides the guiding line, according to which the calculation is made and, if accepted, the production is also carried out. Each calculation is made for specific machines, which are then also used.
Böhlje: In the past we didn't have the overall perspective. The continuous feedback after each work step means improved traceability. We always know how far an order has progressed, enabling us to speed up on an individual basis if necessary. For short-term and urgent orders, we no longer have to ask in the workshop. We enter them into the system, which automatically searches for suitable machines. Given that all the processes are much more transparent, we can also use free capacity to produce for stock, where we now have a better overview. This brought great advantages for the management of our framework agreements, which require processing and managing hundreds of production orders per year.
Lantek: How have your employees accepted the change?
Böhlje: It's not easy, of course, to give up a lifetime of habits. Accordingly, we didn't change everything at once, but with the support of Lantek, and while the system was running, we gradually worked our way forward from nesting and programming the laser systems to preparing the quotation. This took about a year. Today, the system has been accepted.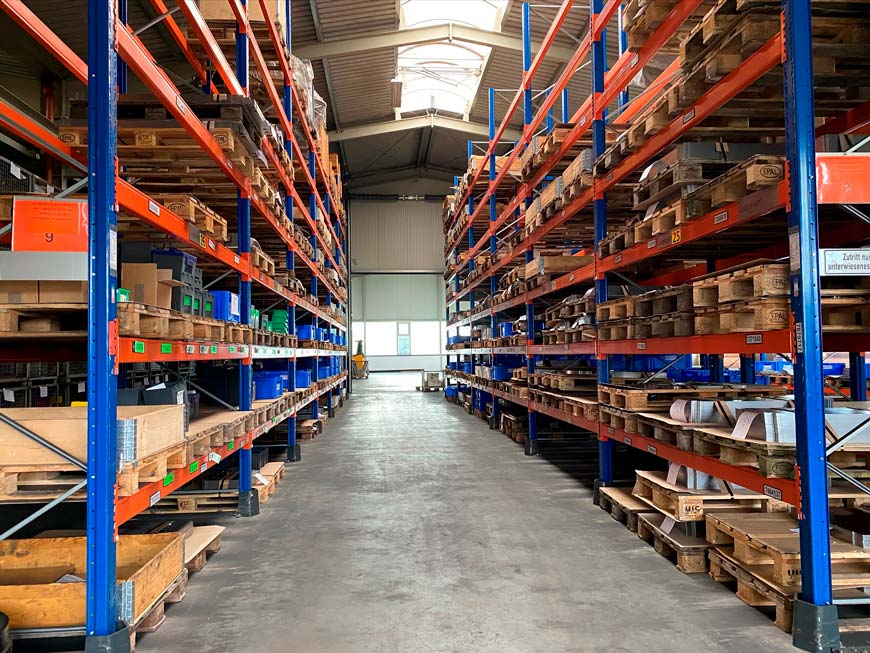 Lantek: How important is optimal material utilization for you?
Böhlje: If necessary, we can optimally combine orders to have as little residual sheet metal as possible. But this is not where our priorities lie. We want to work quickly and on time. This is why it's important for us to be able to set the delivery date for each order and the system then uses this information to calculate the times for all work steps.
Lantek: What does the digital future hold for your company?
Wiechmann: We want to reach even more customers faster and more directly. This is why we're currently thinking about creating an online offer with the Lantek MetalShop module. We would then be available around the clock from anywhere.